Vessels & Arrivals/Departures Database
Search the Vessels Database and view details of a vessel along with it's Arrivals & Departures from the Solent area
View all the vessels Arriving & Departing the Solent Area on any day since 01-Jan-2018.
About & Help
The vessels database contains a record of all the vessels which have been reported by AIS as being within the Solent Region since April 2016. Not all of these vessels will have been visiting the Solent Area as such and may just have been transiting the wider Solent Region on their way to somewhere else. The information in the database about each vessel is based on information available when it last reported in the Solent Region and will not necessarily reflect the vessels current status; it may have changed it's name flag or appearance since then, it may even have gone for scrap.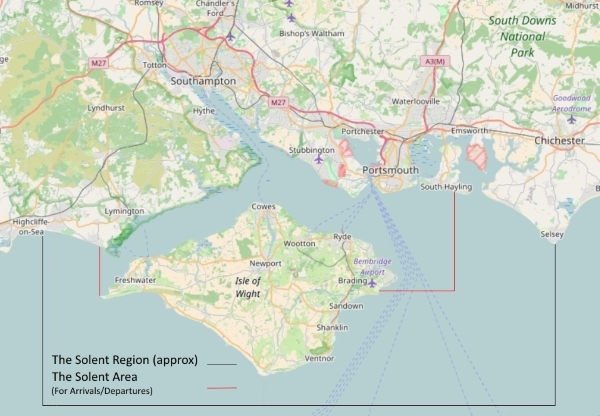 SolentShips.com first started tracking vessels which actually arrived & departed from the Solent Area on 01 January 2018, and the arrivals & departures database contains a record of these observed movements. The arrivals & departure records are generated from AIS reports received, and while the database is extensive it is not 100% complete as AIS coverage is not assured and some arrivals & departures will not have been observed so the completeness and accuracy of the database is not guaranteed.
A search using a vessels IMO or MMSI will directly display the vessel information and any Arrivals/Departures from the Solent area.
If you need to search by name you can search using just a distinctive part of the name and then select the vessel you're looking for from the shortlist that will be returned. If you search using the full name it's important to remember that the name a vessel uses in AIS messages is not always the same as the name it is commonly known by. If your search on name would result in no vessels being matched, then the system will automatically try to tailor the search string to find possible matches. Searches made using name will return no more than 150 vessels.
Along with a vessels details the most recent 10 arrivals/departures are shown. If a vessel has more than 10 arrivals/departures and you are interested in an earlier visit, you can use the Get More Arrivals/Departures options on the vessel details page to see earlier arrivals/departures. If a vessel has been in the Solent region with more than one Name or MMSI the most recent vessels database entry will be shown, and the arrivals/departures will include visits with earlier identities. The details of earlier identites are also shown.
The Arrivals/Departures of a small number of local vessels are not tracked.
Navy & Law Enforcement Vessels
Many Royal Navy vessels routinely use 'aliases', with bogus IMO & MMSI numbers in their AIS messages.
These bogus identities may be changed at frequent intervals, and in many cases the same Vessel Name, IMO & MMSI numbers will be used by different vessels. Foreign Naval vessels & UK Naval Auxiliaries often follow similar practice, and US Navy vessels often do not broadcast AIS at all.
This means that the arrivals & departures of Naval vessels are difficult to track reliably and that the Vessels database entries and the Arrivals/Departures database entries for all Naval vessels should be treated with caution.
Border Force and Police vessels rarely broadcast AIS information and are only occasionly recorded in the Arrivals/Departures database